We are guest posting over at
The Sweet Spot
right now! So head on over to Paige's site and check out how to make yourself some cake pops. If you missed it, we will be posting those over here in the next few weeks :) Her site has some great recipes, so I would suggest you add her site to your blog roll.
Over here at Pops and Podge we are going to post an Easter Cake today. I am working on my Easter Brunch menu that will be posted next week sometime and this cake has made the cut!
I decided I wanted to give you some additional tips and tricks to add to your cake baking tool box. So put on your apron and get ready to learn something new!
First make your cakes...I cheated again and just used two box white cake mixes. I really only needed three layers, so I used about 1 3/4 c. for each layer. I used 8 inch cake pans, if you use 9 inch ones you can use probably 2 cups which would use up most of your batter. If you feel your cakes bake up to tall, no worries you can cut off the top and use the left overs for your cake balls/eggs (this is what I did). Separate what you need into separate bowls and start mixing in your gel coloring. I used pink, blue and yellow for my cakes.
Then make your frosting. I used my
frosting stand-by
. I doubled it, but had a lot left over, so I don't think you need to.
Tip #1: If you don't have one, go buy a large frosting coupler. It has changed my frosting world! You will also need to find some large tips (I like the Wilton 1D and the 2D). You might also need some disposable bags or you can splurge and buy the reusable ones. I find the disposables last me about 3-4 times. Just use dish soap and wash-out by hand. Using a large bag/coupler/tip makes it so much easier to frost your cakes and cupcakes. This is from a person that used to use plastic sandwich bags with the tip cut off (works in a pinch).
Tip #2: When filling your bag, use a tall glass. Put your bag, tip and all into the glass and then take the top of the bag and fold it over half way. So it goes on the outside of the glass. This helps you not get frosting everywhere. Then you just plop your frosting right into the bottom. When finished you just bring up the sides and twist it closed. Ready to frost!
Tip #3: Lazy Susan! Yep, if you don't have one...get one. I got mine at Ikea and love it. It is great for frosting cakes. Makes it so much easier to turn and get a smooth surface.
Tip #4: Put frosting and wax paper under your cake when setting on your cake plate. A little slab of frosting makes it so your cake will not move or slide off your plate. Cause that would be BAD. The wax paper, cut in strips, helps keep your cake plate clean. When your finished frosting, you can remove the paper.
First I do a thin layer of frosting on top. Then grab your big tip (1D) and pipe your frosting around the edge of your cakes (see above). Then fill it with your fruit or custard filling.
Tip #6: Crumb layer. I often get crumbs in my frosting. Don't you hate that! No worries I learned a little trick. Frost your whole cake with a thin layer and get all the crumbs you want in there. Then pop it in the freezer for a bit (at least 30 min). When you bring it out, start frosting. None of those crusty crumbs will make it to your nice top layer. Also you can use hot water with your angled spatula to help smooth.
The next step for this cake once baked and frosted is the fun part! Coconut, I used about a half of bag of shredding coconut. Put it in a bowl and used my hands to press into the sides, starting at the top.
Once that is done, you can cut your dark chocolate nest. Cut one dark chocolate bar into slivers.
Then I started on my cake eggs. I used my left over tops from the cakes I baked earlier. Just put the scraps in a bowl and set aside. When I was ready I just crumbled it with my hands, then I literally grabbed a handful of frosting (maybe 1/3 cup) and mixed it all up with my hands until it was a good texture to be formed into balls/eggs. I rolled them into balls first, then made the end a little smaller by pressing with my fingers. (FYI- pink, yellow and blue cake makes baked potato colored cake balls, who knew!)
cake pop tutorial here
if you want. I used different colored melting chocolate because I recently learned your actually not suppose to use food coloring to tint your chocolate unless it is oil based. Most food coloring or gel is water-based. Water and chocolate are
not
friends. You can use mix different melting chocolates to get the color you want. Just get out your old color wheel.
I put the nest on top of the cake and then put the cake eggs inside. I piped the top edge with a ribbon tip. More on different frosting techniques later.
Happy Easter,
Christie
Linking up to: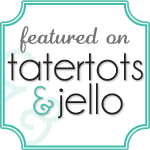 The Artsy Girl Connection