I keep reading all over blogland about people getting sunshine in their neighborhoods, 60 here...70 there. We don't get much sun around these parts, in fact it will probably snow tonight, so I have to fake it. It is almost April after all, and if I am correct Spring officially starts in a few days. So let's celebrate! I am a huge fan of rag wreaths. And I was in need of something spring-y around here. So I gathered some fabric, starting ripping and tying. It took me a few hours in front of the TV to tie.
First I gathered about a 1/2 yard of 6 different fabrics. You can use less designs, but you will need about 3 yards total fabric. I also used a 10 inch wire wreath form. I have made one of these before and used a 12 inch form. It makes a nice big wreath, but I wanted something a little smaller for this one. The 10 inch worked perfectly!
You basically need 1 inch strips of fabric between 7-9 inches long. I rip my fabric in the 1 inch strips first and then cut them how long I need them. I usually get about 3 to 4 per 1 inch strip. You can cut your 1 inch guidelines first and then just rip them. Make a nice stack and be prepared to be covered in fabric string.
I like to tie them in bundles before I start tying. I did two separate ones for my 6 fabrics. I just helps you stay organized and you can easily put it away if you can't finish in one sitting.
I actually cheated a little and just tied fabric around the two inner rings. Leaving the outer in the most inner rings empty. I would start this way and then you can add to the outer and then inner if you have enough fabric left over. I personally did not want any more fabric on the inside cause my strips were about 9 inches long and it made the center of my wreath smaller.
I added a little birds nest with some blue robin eggs onto the wreath with some wire. It still felt unfinished so I added a little pink bow to finish it off!
I'm ready for the sunshine now...Can someone send some over to Portland please!
Happy Crafting,
Christie
Linking up to: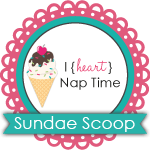 How to Nest for Less
My entry into Just Something I Whipped Up sponsored by Appliances Online and the
Bosch Washing Machines
, .