The 4th of July has become one of my favorite holidays. My brother is a Marine and has been deployed twice and there is a 90% chance he will be deployed this fall. While he was in Afghanistan, he told us a little bit about their life over there, and it made me so grateful for the freedoms we have here. When he came home from his last deployment, it was bittersweet for his company. 2 of his friends had been killed within a week of each other, including my brother's bunk mate. I am so humbled and grateful for those who have given their lives and time to serve our great country.
Last year, I was sad because we didn't do too much for this awesome holiday. Boo hoo. We had just moved to a new state, and didn't know our way around and were barely starting to make friends. But this year, I have got treats to make and really want to start my own family traditions. Back home, we would always go to our hometown parade with our parents (they live about 5 minutes from each other) and one year, my husband even won a hot dog eating contest! Our town would have awesome fireworks, and we would spend the whole day with family. But since we aren't around any family, we will start doing our own thing. I love festive food, and thought I'd share some ideas that are floating around the internet...
Layered Patriotic Punch
(I am making this!!)
Patriotic Strawberries
(I'm also making these!)
Patriotic Kabobs
Layered Patriotic Cupcakes
(You all know I can't resist making these! I'm so excited!)
Sheesh, the possibilities are really endless when it comes to making food for the 4th! I have literally spent hours just looking at tons and tons of different kinds of desserts and foods.... Yikes!
Here are some fun craft ideas that I wish I had the time and unlimited resources to make...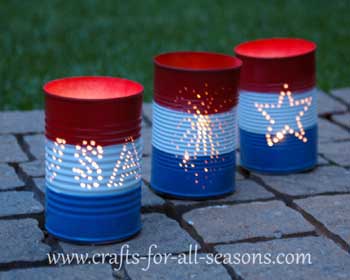 Wow. Fun, fun, fun!! I hope you all have a delightful weekend!
Claudia